---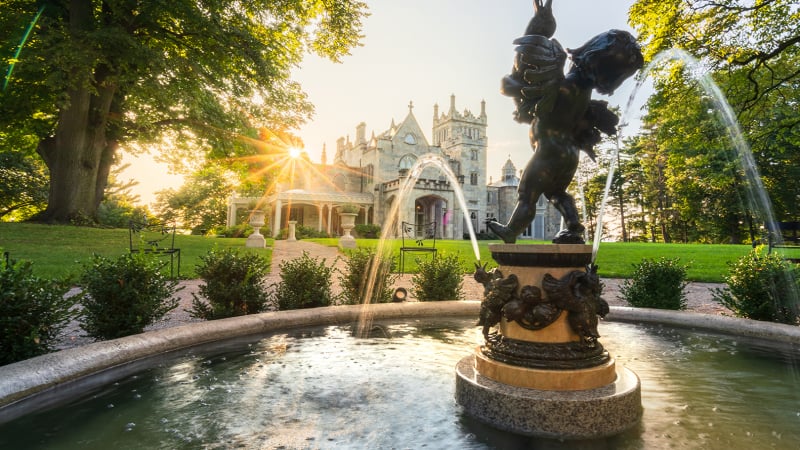 ARTRIDER's FALL CRAFTS at LYNDHURST
TARRYTOWN, NY – Sept 17-19th, 2021
ARTRIDER's FALL CRAFTS at LYNDHURST
Elke Van Dyke Design is thrilled to join Fall Crafts at Lyndhurst as it ushers in the breathtaking autumn season as 200 modern American artists gather on the grounds of the Gothic Lyndhurst 67-acre estate (tours available). Spend the day with family and friends shopping for fashions, accessories and jewelry; functional and sculptural works in ceramics, glass, metal, fiber, wood and mixed media; and fine art painting, printmaking, drawing and photography. Plus, gourmet foods, specialties, concessions and tastings from local distilleries, wineries and cider houses. A great day for the entire family at one of America's most beautiful landmarks! *Proof of vaccination is required to gain entry to the event site*
INFO
DATES: Sept 17-19th, 2021

HOURS: FRI &amp SUN 10am-5pm, SAT 10-6pm

LOCATION: Lyndhurst Mansion 635 South Broadway Tarrytown, NY 10591

METRO: A short cab ride from the MTA Tarrytown Metro Station.
---
PARADISE CITY ARTS FESTIVAL
NORTHAMPTON, MA – Oct 9-11th, 2021
PARADISE CITY ARTS FESTIVAL
Elke Van Dyke Design is thrilled to join Paradise City Arts Festival – who has transformed the Three County Fairgrounds in Northampton, Massachusetts into a place of beauty, artistry, and imagination for over 25 years. The Festival, with its unique indoor-outdoor ambiance, brings together an extraordinary selection of artists and makers, from fresh new talent to artists with national reputations. Patrons often write to say, "It's like visiting a wonderful museum, but you can bring the work home with you."
INFO
DATES: Oct 9-11th, 2021

HOURS: FRI 10-6pm, SAT 10am-5pm & SUN 10-4pm

LOCATION: Booth #705 Three County Fairgrounds 54 Old Ferry Road, off Route 9 Northampton, MA 01060
---
BRYANT PARK HOLIDAY SHOPS
42nd St. WINTER VILLAGE - MIDTOWN MANHATTAN
BRYANT PARK HOLIDAY SHOPS
Elke Van Dyke Design (Booth N2) is thrilled to join the Bryant Park Holiday Shops for a safe and magical, one-stop holiday-shopping experience. Nothing compares to The Bank of America Winter Village at Bryant Park - one of NYC's most beloved holiday season destinations. With more than 50 artisanal vendors selling their innovative wares, it is safe to say that you will find a gift for all of your loved ones. If you get hungry don't worry there are some of the most interesting food concepts to choose from while you shop. And If that isn't enough to do, you and the family can grab some blades and hop on the ice for a little family fun!
INFO
DATES: OCT 29, 2021 – JAN 2, 2022

HOURS: MON - FRI 11am-8pm, SAT – SUN 10am-8pm

LOCATION: Booth N2 Located between Fifth Ave. & Avenue of the Americas (btw 40th & 42nd Streets) in Midtown Manhattan.

SUBWAY: Take B/D/F/M or 7 train to 42nd St. / Bryant Park.
---
MARKETPLACE MOGUL
PARK SLOPE 7th Ave - SATURDAYS
PARK SLOPE 5th Ave - SUNDAYS
MARKETPLACE MOGUL
Take a weekend stroll through the park and join Elke Van Dyke Design outside at Marketplace Mogul's Park Slope 7th and 5th Avenue locations - Brooklyn's trendiest outdoor spot for showcasing local artisanal treasures with the works of talented New York City artists, designers, and craft-makers, coupled with vintage vendors displaying unique items including apparel, jewelry, clothing, home decor, and much more!
INFO
DATES: SAT & SUN (weather permitting)

HOURS: 10am-6pm

LOCATION: SAT: 180 7th Ave. (btw 1st & 2nd) SUN: 350 5th Ave. (btw 4th & 5th st.) Brooklyn, New York 11215

SUBWAY: D/G/F/N - 9th & 4th Ave.; B/Q 7th Ave & R - Union St. & 4th Ave.